A SHOP, STUDIO, AND ONLINE WORKSPACE WRAPPED IN ONE. COME IN AND EXPERIENCE A WOOLLY WARM WELCOME
If you are enrolled in an online class you have to go to the Cloth&Twine Online Felting School
Once you are there you have to log in on the top right corner. Use the email address you used to purchase the kit with class, or just the class. Than go to "profile" which houses all the classes you are enrolled in.
If you run into any problems or can't find your class don't hesitate to contact me.
How nice of you to ask. Just recently I started a blog and a farm page. Ever since we moved to the Bloom Farm we have so much more to share with you. Feel free to visit our page... Keep in mind that it is a work in progress.
Let me show you how I Needle Felt
Online Felting Classes
I set up a whole online "studio" for you to felt-along my side and create beautiful woolen things. A place where you can find all online classes in one place and enjoy needle-felting at your own pace, when you have time, and are in the mood. Just log in and have everything at your fingertips. For in-person classes here in Edenton please keep on scrolling...
Needle-Felting Online
October 12th - 15th, 2023 Weekend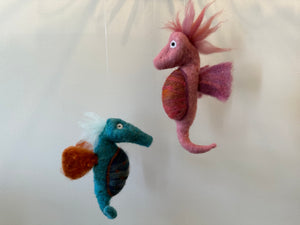 Now Available
The Seahorse Ornament
Buy the kit and get the class free.
ATTENTION! BOTH PRODUCTS HAVE TO BE IN THE CART TO RECEIVE THE DISCOUNT!
Shop the kit
and get the class free
frequently asked questions
We are on 527 Yeopim RD just 2.5 miles outside of historic Edenton.
Special Events:
Self Guided Needle Felting Sessions during shop hours.
Fiber Fun Friday 10:30 am - 12:30 pm
Shop Hours
By appointment only, text or call (650-741-8680)
In-Studio guided Classes (reservation required)
Tuesday - 10:30 am - 12:30 pm, 2:30 pm - 4:30 pm
I offer classes in sewing, knitting, but my focus is to bring wet- and needle- felting to the community. I teach classes that go throughout the year and classes that are completed during a 2-2.5 hour session. Don't hesitate to contact me for more information.
Absolutely! All my 2hour needle- or wet-felting classes are designed for anyone who wants to get started with needle felting, but will not limit the student who already has a little experience.
I would say, you probably just haven't found it yet. I don't know if you will find it through needle felting, but it is worth a try. I have only met one person so far that said needle felting was not for them...
IN STUDIO - Start to Finish Felting Classes
Creativity in person and online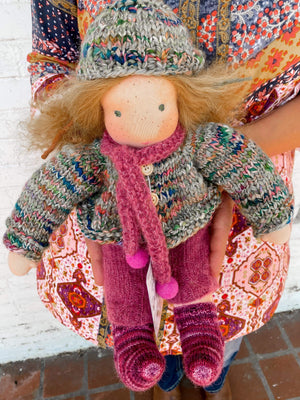 "Who carries the spirit of the maker in its stitches
and absorbs the spirit of the child who loves it"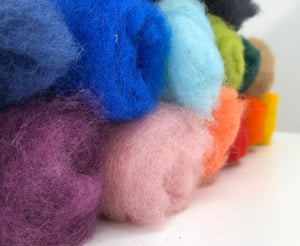 Looking for
Felting Supplies
We carry beautiful fiber for needle and wet felting as well as tools.
Shop Fiber
Shop Tools
Not just for Children
a knitting story
See how Jim, Valentine, Jack and the bees work together to create the little hen.
Read about it
We would love to hear from you
Collection
Edenton Inspired
Our tea towels, magnets, and other Edenton inspired products are now exclusively available at the Penelope Barker House.
Make sure to visit Them